SOFT DRINKS
We make a range of 16 traditional flavours, many of which are still manufactured from the original recipes and ingredients. 
16 TRADITIONAL FLAVOURS
We only produce in 330 ml glass bottles which, unlike plastic (PET), gives our range an extended shelf life and ensures the product remains fresh and full of bubbles, no matter how long you like to store it. Glass is also infinitely recyclable which we think is important.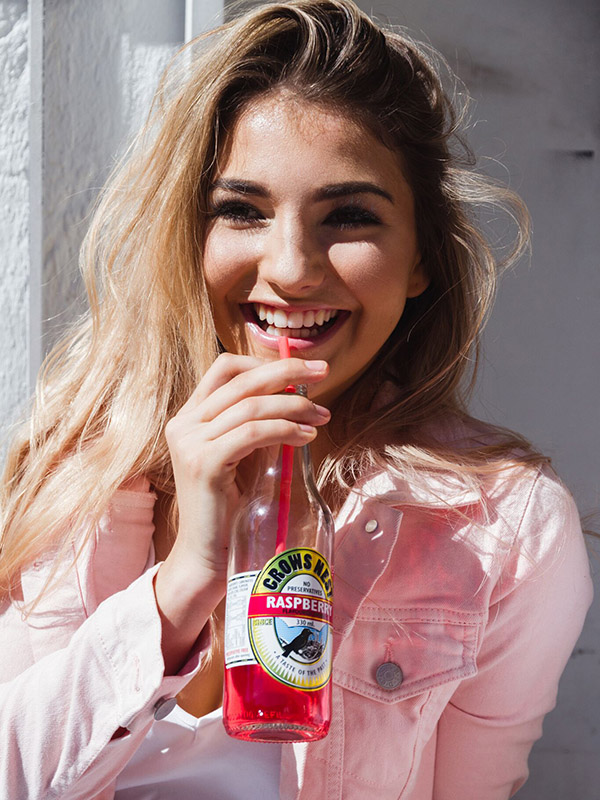 We produce 16 flavours of Traditional Soft Drinks using time honored recipes and methods. Some of our recipes go right back to the beginning while others have been developed over the generations. We only use Bundaberg cane sugar, premium essences from Australian suppliers and the majority of our packaging is Australian made. 
Double Sarsaparilla
Our signature flavour and biggest seller by far. Still made from the original essences, our customers are constantly telling us that our 'Sars' is the best. Don't take our word for it, come and try one for yourself!
Creaming Soda
A firm favourite enjoyed by young and old alike. Lower carbonation gives a smooth creamy taste and, unlike some of the big manufacturers, we've retained the traditional yellow colour the older generations will remember.
Blue Lemonade
Very popular with the kids, the Traditional Lemonade Flavour is only enhanced by the Sky Blue colour that treats the eye as well as the taste buds! 
Portabello
This is a very old flavour sometimes called 'Portello' or 'Portino'. We're often asked what it tastes like and the best we can come up with is: Cherry/Grape with a hint of Creaming Soda! This is a very popular flavour so give it a try, you won't be disappointed! 
Lemon, Lime & Bitters
Our own unique blend of premium Lemon and Lime essences, fortified with Lime Juice and finished with genuine Angostura Bitters, just like they mix in the bar…. only better! 
Ginger Beer
The only recipe we've changed to incorporate more Ginger bite and a warm aftertaste. If you liked Grandma's Ginger Beer, you'll love this! No added colours and plenty of spice.
Lime
Brilliant lime green colour and still a firm favourite. A refreshing summer drink, perfect as a mixer or in ice cream 'spiders'.
Cherry Cheer
If this doesn't cheer you up, nothing will! Still made to the original recipe handed down through the generations.
Raspberry
You don't have to go to the pub to enjoy this old favourite! Full of ripe Raspberry flavour, if you find one better, we haven't heard of it! 
Musk
A recent addition to our family but a very old confectionary flavour. If you love the old fashioned Musk Sticks and Lollies it tastes the same…… with bubbles!
Crows Cola
It is always hard to compete with that other multinational Cola brand but, with a flavour profile remarkably like our famous competitor, it has been described as a smooth, full flavoured Cola. Next time you feel like a Red One, give old Crowie a go! You might be pleasantly surprised. Contains Caffeine.
Mandarin
A delicious Ripe Mandarin flavour with delicate citrus tones, it's our alternative to boring old Orange. It may not be our biggest seller but our Mandarin has its share of dedicated followers.
Lemonade
Crystal clear Old Style Lemonade, just like your favourite pair of 901's, some things never go out of style.
Lemon Squash
Deliciously refreshing, our Lemon Squash is based on real Lemon Juice with no added colours. The perfect partner to a Queensland summer.
Lime Supreme
With real Lime Juice we call this our 'Adults Only' lime drink (especially mixed with your favourite spirit!) Lower sugar and drier than the traditional 'Green' Lime, take yourself poolside with this one!
Soda Water
From our pure water supply we add bubbles and NOTHING else! What more can we say?
Traditional Soft Drinks have always been made on Sugar Syrup and, although we can't deny the negative health effects of excessive sugar consumption, we believe that traditional Soft Drinks were never intended to be a source of hydration, but a treat to be enjoyed in moderation. We only use Bundaberg Cane Sugar grown right here in Queensland and NONE of our drinks contain artificial sweeteners or added preservatives.