LOW SUGAR SOFT DRINKS
We now make a range of 4 Low Sugar Soft Drinks, which are based on our traditional recipes.
Low Sugar Soft Drinks
We only produce in 330 ml glass bottles which, unlike plastic (PET), gives our range an extended shelf life and ensures the product remains fresh and full of bubbles, no matter how long you like to store it. Glass is also infinitely recyclable which we think is important.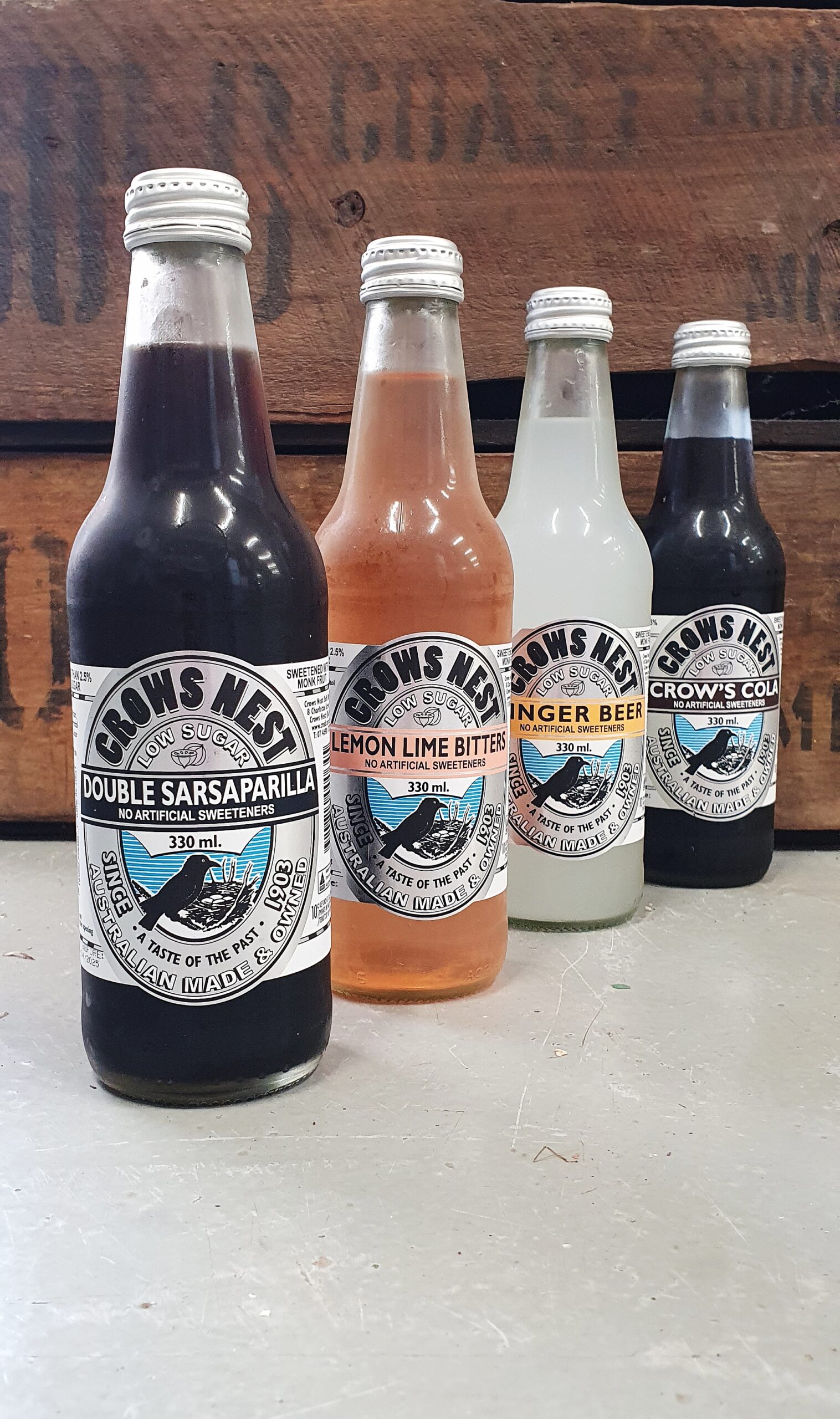 After 120 years of producing Traditional Soft Drinks, we have taken the bold step of introducing a range of Low Sugar Soft Drinks to complement our Traditional range. Our initial Low Sugar flavours are: Double Sarsaparilla, Ginger Beer, Crow's Cola and Lemon Lime & Bitters. We might consider expanding this range if there is sufficient demand.
 What is 'Low Sugar'? In compliance with Food Standards Australia & New Zealand (FSANZ), a 'Low Sugar' claim can only be made for beverages when the total sugar content is below 2.5 grams per 100 ml or 2.5%. We have achieved this without using artificial sweeteners and by incorporating Monk Fruit extract in our formulation.
 Why not zero sugar? We would need to introduce artificial, high intensity chemical sweeteners to eliminate sugar completely. Our multinational competitors have been trying to develop a sweetener to replace sugar for decades, at enormous expense, and arguably have failed to closely replicate the unique taste of sugar. We have decided to use some sugar in our Low Sugar range to retain some of the taste and 'mouthfeel' of sugar.
 What is Monk Fruit? The rising star of natural sweeteners, Monk Fruit comes from a vine native to Southern China and is cultivated throughout Southeast Asia. The unique low-calorie components of the fruit (Mogrosides) are extracted and refined to produce a powder up to 250 times the sweetness of Cane Sugar. Although Monk Fruit doesn't taste exactly like Sugar, it contributes sweetness with a fruity aftertaste unlike Stevia extracts, which can leave a bitter aftertaste. Monk Fruit extract has zero calories with the added benefit of having antioxidant and anti-inflammatory properties.
 We recommend our Low Sugar Soft Drinks to anyone who is conscious of reducing their sugar/calorie intake and want to avoid artificial sweeteners. We are not pretending that they taste the same as Traditional Soft Drinks but we hope you will give them a try and enjoy the unique flavour of Monk Fruit. For those who prefer our Traditional Flavours, FEAR NOT, they will remain as they…. The choice is yours.
DOUBLE SARSAPARILLA
Is our signature flavour in the Traditional range. The Low Sugar formula is based on the original recipe without the high sugar content. We think that Monk Fruit complements the Sarsaparilla flavour, so treat yourself to our famous 'Sars' without the guilt!
LEMON, LIME & BITTERS
Our own unique blend of premium Lemon and Lime essences, fortified with Lime Juice and finished with genuine Angostura Bitters, we've taken 'LLB' to the next level!
Ginger Beer
Our Traditional Ginger Beer has risen to be one of our top sellers. Incorporating serious Ginger bite and a warm aftertaste, this Low Sugar option will not disappoint. No added colours and plenty of spice.
CROWS COLA
Zero sugar Cola's have become mainstream over the last few years. Unfortunately our multinational competitors have relied almost entirely on artificial, high intensity chemical sweeteners. Our Low Sugar Cola, although more expensive to produce, contains no artificial sweeteners. Perfect as a mixer with your favourite spirit or a cold refresher any time. Next time you reach for a 'Zero', give Our's a go! You might be pleasantly surprised.
Contains Caffeine.